Megaprojects - Under Construction: I-95 Southbound Rappahannock River Crossing
(New!) The week of Oct. 12-13, 2021, the Virginia Department of Transportation (VDOT) will open the second Interstate 95 southbound bridge over the Rappahannock River in the Fredericksburg area.
I-95 southbound capacity across the Rappahannock River will be doubled when the new bridge opens. Six southbound travel lanes will cross the river, marking a significant milestone in the construction of the $132 million I-95 Southbound Rappahannock Crossing Project.
The existing southbound bridge will carry local traffic between exit 133 (Route 17) in Stafford County and exit 130 (Route 3) in the City of Fredericksburg. Through traffic, or travelers with destinations south of Fredericksburg, will use the new bridge.
Learn more and view a work zone simulation video and graphics on the Improve95.org page.
Project Overview
Construction on the I-95 Southbound Rappahannock River Crossing began in August 2018 and is tracking to be completed five months ahead of schedule in Dec. 2021.
With nearly 150,000 vehicles a day traveling on I-95 near the Rappahannock River, the new lanes will allow local traffic to travel along I-95 between interchanges separated from regional and interstate traffic traveling through the Fredericksburg area.
The I-95 Northbound Rappahannock River Crossing project will build additional northbound travel lanes between the same interchanges. Construction began in summer 2020, and new lanes will open to traffic in early 2024.
Both Rappahannock River Crossing projects will connect with 95 Express Lanes, which are being extended over 10 additional miles in Stafford to the Route 17 area. Construction continues on 95 Express Lanes Fredericksburg Extension Project. The project is building three new access points to express lanes at exit 148 (Quantico), exit 140 (Courthouse Road) and at exit 133.
Virtual Public Information Center
This link will take you to an online meeting room with narrated display boards with design details, a construction schedule, and simulation videos for the project. The virtual public information center will remain active for the entirety of this project.
https://virtualmeetings.jmt.com/RRCProjectsPIC
Improve 95 Brochure
Learn more about all of the major projects underway on I-95 in the Fredericksburg area through 2024 to build a better ride.
Improve 95 brochure: single sheet (ideal for printing)
Improve 95 brochure: foldout-view
Rappahannock

River Access
Rappahannock River users are advised that the river channel is now open for recreational traffic, and use of a portage put into place is no longer required.
The portage was installed to accommodate bridge construction underway for the I-95 Southbound Rappahannock River Crossing project.
River access will remain open for the majority of construction, which began near the river in November 2018 and will be complete in May 2022.
Virtual Construction Open House: October 1, 2020
Thank you to everyone who joined us for our first virtual construction open house. Please view the meeting presentation materials:
Work Zone Cameras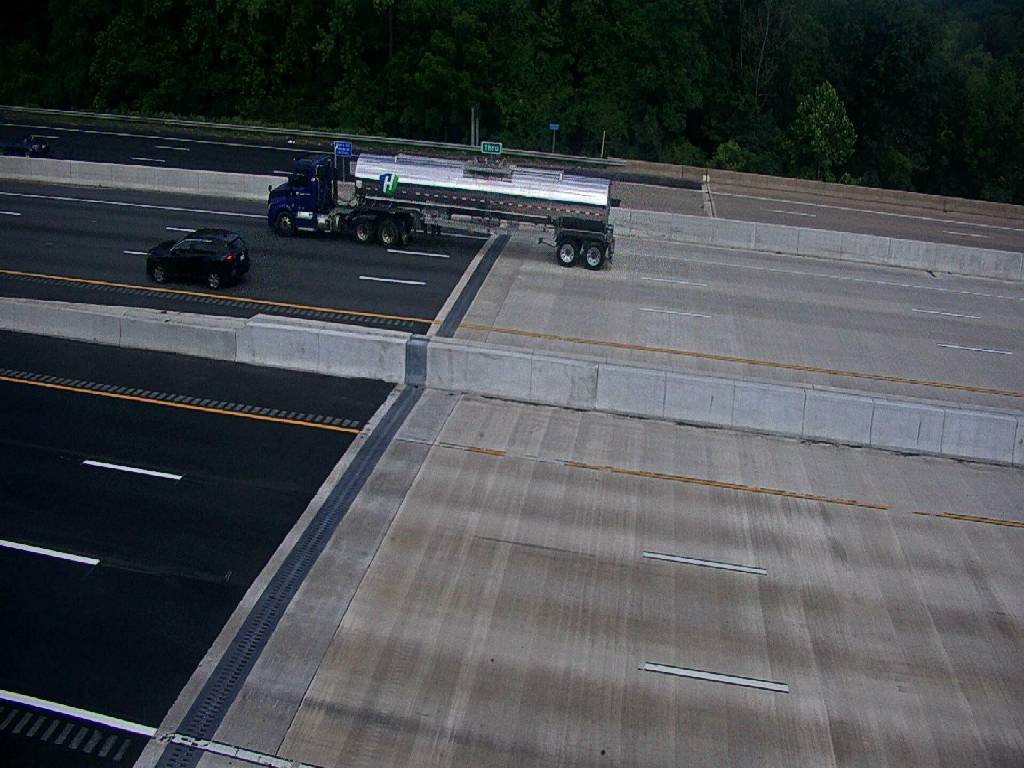 Construction at I-95 overpasses at Rappahannock River, City of Fredericksburg and Stafford County
Benefits
This project seeks to reduce I-95 southbound congestion at Fredericksburg by:
· providing local traffic with an additional route to travel between Route 17 and Route 3 without merging into the interstate's general purpose lanes
· doubling the I-95 southbound capacity in the area with three new lanes
· ramp modifications at the Exit 133 and Exit 130 interchanges
· replaces existing I-95 bridges over Route 17 that are structurally deficient, and improves height restrictions on Route 17 under I-95
Major Milestones
August 2018: Construction began
Winter 2019: Construction begins on I-95 bridge over the Rappahannock River
Spring 2019: Construction begins on Route 17
Fall 2020: Two I-95 ramps at Exit 133 will be temporarily closed during construction to provide space to build the new I-95 overpasses over Route 17, and to avoid merging and weaving near the construction work zone. Traffic will be diverted and still be able to enter or exit the interstate at the interchange
Oct. 13, 2021: New, second I-95 southbound bridge scheduled to open.
May 2022: Construction complete (currently estimated to be finished in December 2021)
Resources
Phase: Under Construction
UPC: 101595/110595/112046
State ID: 0095-111-259, P101, R201, C501; 0095-089-741; 0095-0089-751
Federal ID: IM-5111(235)
Lat/Long: 38.326644,-77.501531

Locality: Fredericksburg , Spotsylvania , and Stafford
Page last modified: Nov. 3, 2021